How to Grasp the Trillion-Class Wind Port of Smart City with LED Light Pole Poster
With the development and application of new technologies such as Internet of Things, Cloud Computing, Big Data, Mobile Internet and so on, the modern work and life are undergoing profound changes, and the traditional urban management and service mode has been difficult to adapt. In exploring the way of further development, the construction of smart city has become a hot key word in recent two years. According to the data, by the end of 2017, more than 500 cities in China have explicitly proposed or are building smart cities, and the market scale is expected to reach 18.7 trillion yuan by 2021. It can be seen that the wisdom city is the general trend.
However, in order to build a smart city, we need to lay a series of networking infrastructure first, and the system construction of informatization and Digitization Based on widely distributed urban street lights will be an important breakthrough. Speaking of street lights, we are all familiar with it, but the intelligent street lights (smart lamp poles) which can check weather forecast, search for tourist attractions and public transportation information, and connect WIFI to charge electric vehicles are the products of smart demand in recent years.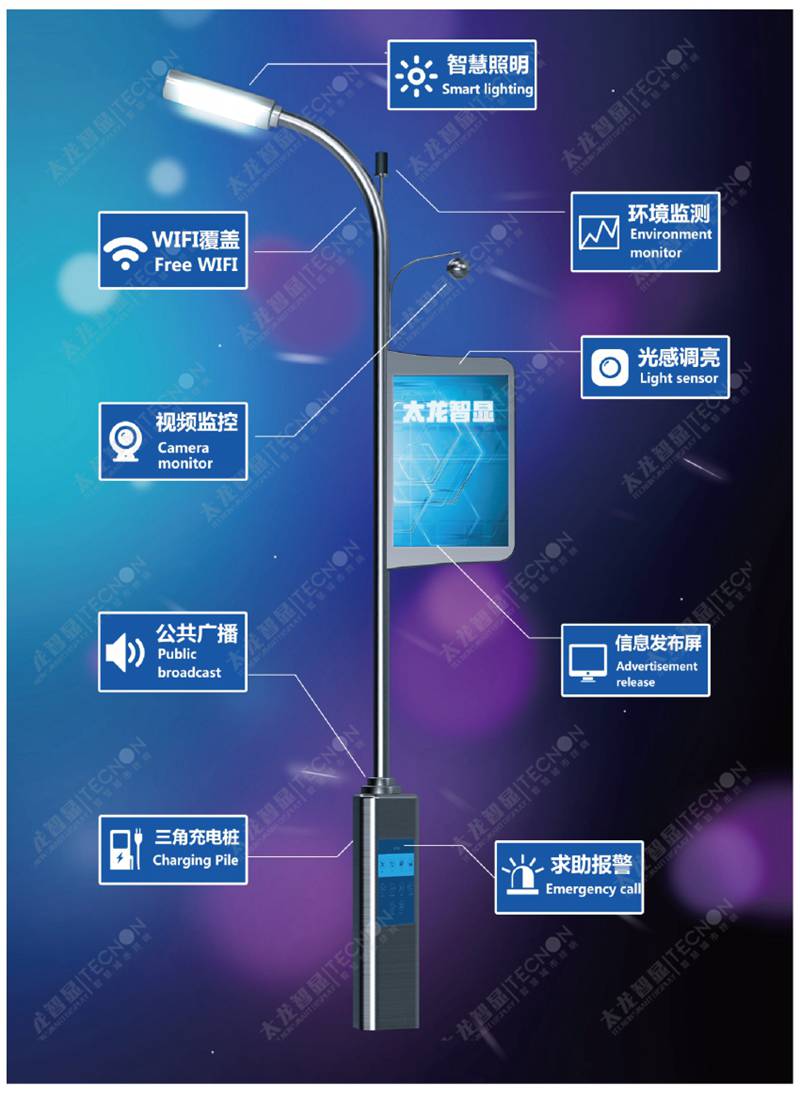 With the continuous progress of 5G, artificial intelligence, Internet of Things and other technologies, the industry needs put forward more requirements for the responsibilities of street lamps, such as urban environmental monitoring, video surveillance, wireless networks, emergency calls, charging piles and so on. However, in order to integrate these functions on a pole and achieve interconnection, a core connecting medium is also needed, that is, the LED lamp pole screen.
LED lamp pole screen, as its name implies, is the LED display screen installed on the lamp pole. It is also a new generation of media equipment that integrates digitalization, networking and information technology. It bears the responsibility of content dissemination, fragmentation application and intelligent management channel for the whole intelligent street lamp project. At present, no enterprise can undertake a smart street lamp project from the beginning to the end, but by a number of suppliers to complete together, and Tailong Zhixian as a professional manufacturer of LED lamp pole screen is aware of this point, can always adhere to focus on the subdivision of the field of LED lamp pole screen terminal, make this single product fine, thorough and excellent.
At present, Tailong Intelligent Display LED pole screen terminal has integrated outdoor high-brightness, high-definition power saving, cluster control, remote synchronous playback, automatic brightness adjustment, smoke, humidity, temperature, PM2.5 monitoring, remote power switch, intelligent monitoring, voice and video interaction, face recognition and other functions, which not only meets the scene application requirements of intelligent street lamps, but also sets off a wave of intelligent display and informatization. Tide.
It is noteworthy that the intelligent lamp pole has gradually developed towards diversification of appearance and multimedia terminal equipped with LED lamp pole screen. The application scheme of LED lamp pole screen is based on intelligent control and integrates the Internet of Things technology, sensor technology, automatic brightness adjustment and other information technology means, and new information technologies such as big data, intelligent monitoring, instant information transmission, multimedia display, etc. Integrating into the street lamp application environment, to create an efficient, convenient, energy-saving and intelligent LED outdoor application terminal, presents a professional, intelligent, integrated high-end fusion scene.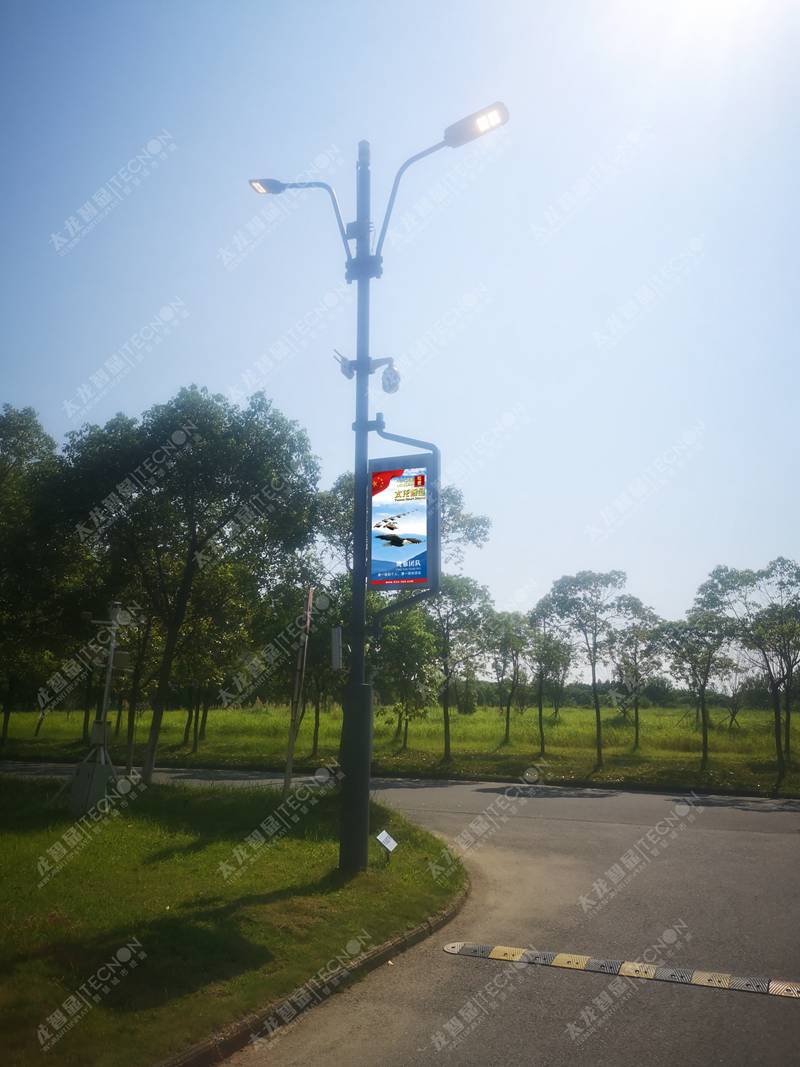 With the acceleration of the current process of wisdom, the market dividend generated by the big cake of wisdom lamp pole industry is increasing day by day, waiting to be partitioned. In addition, the current planning of the three major operators, it is expected that 5G technology will be officially opened for commercial use in 2020, when the demand for smart lamp poles carrying base stations will erupt more likely in the past two years. As the core component of smart pole, LED lamp pole screen is an important channel to ensure the operation (charging) of smart street lamp projects, and a new round of development opportunities will also be ushered in in in the future.
It can be said that smart lamp pole is based on policy guidance, large market, large-span, big driving force, and has innate physical location and other advantages of wisdom support, and LED lamp pole screen is the key to determine the shape, quality, core function display, intelligence or not, cost, service life, operating income of smart lamp pole. Therefore, the combination application of smart lamp pole and LED lamp pole screen, to a certain extent, alleviates the operation cost problem of smart lamp pole, enriches the industrial form, improves the level of operation and management, promotes the industry to iterate continuously, and creates greater value in the construction flood of smart city.
It has to be mentioned that 2020 is the breakout point of the smart lamp pole industry, and these two years are the time for horse race enclosure. What the manufacturers of LED lamp pole screen need to do is to improve product quality, improve supply chain system, manufacturing system, R&D system and marketing system, expand market visibility, at the same time, establish a core customer group and an effective industrial development ecosphere, in order to truly achieve the smart lamp pole. When it breaks out, we should grasp the trillion-scale wind vents of smart cities and occupy a favorable position for development.
As a service provider who has been focusing on R&D, sales and production of smart city terminal products, Tailong Zhixian is adhering to the concept of interconnection, sharing and intelligence. At present, Tailong Zhixian has opened the beginning of professional services for smart city construction. With smarter products and services, it constantly breaks through the market of LED smart terminal, exhausting current new materials, new technologies, new functions and new concepts, and puts LED into full play. Smart city terminal products such as lamp pole screen are more portable, smarter, more energy-saving, more beautiful and cheaper. They embrace the new era of 5G technology with a new attitude and present new competitive advantages in the dividend tuyere of smart city .